Bitcoin has stabilized after a period of high volatility. Data reveals that retail investors appear to have stepped away due to the recent price action, while institutional investors are flooding the crypto derivatives market.
Bitcoin's Wild Price Action Discourages Retail Investors
This month has been quite dramatic for the entire cryptocurrency industry, thus far.
On June 1, Bitcoin was able to slice through the $10,000 resistance level for the first time since the beginning of the year. Following the sudden upswing, the flagship cryptocurrency plummeted by more than $1,000 in less than five minutes.
Since then, Bitcoin was able to stabilize within a narrow trading range. This area is defined by the $9,500 support and $9,900 resistance level.
The wild price action seen at the beginning of the month was mostly felt on  BitMEX. Here, Bitcoin dropped to a low of $8,600, while most cryptocurrency derivatives trading platforms recorded a low of approximately $9,250.
The massive downswing resulted in the liquidation of more than $100 million worth of long and short BTC positions on BitMEX alone.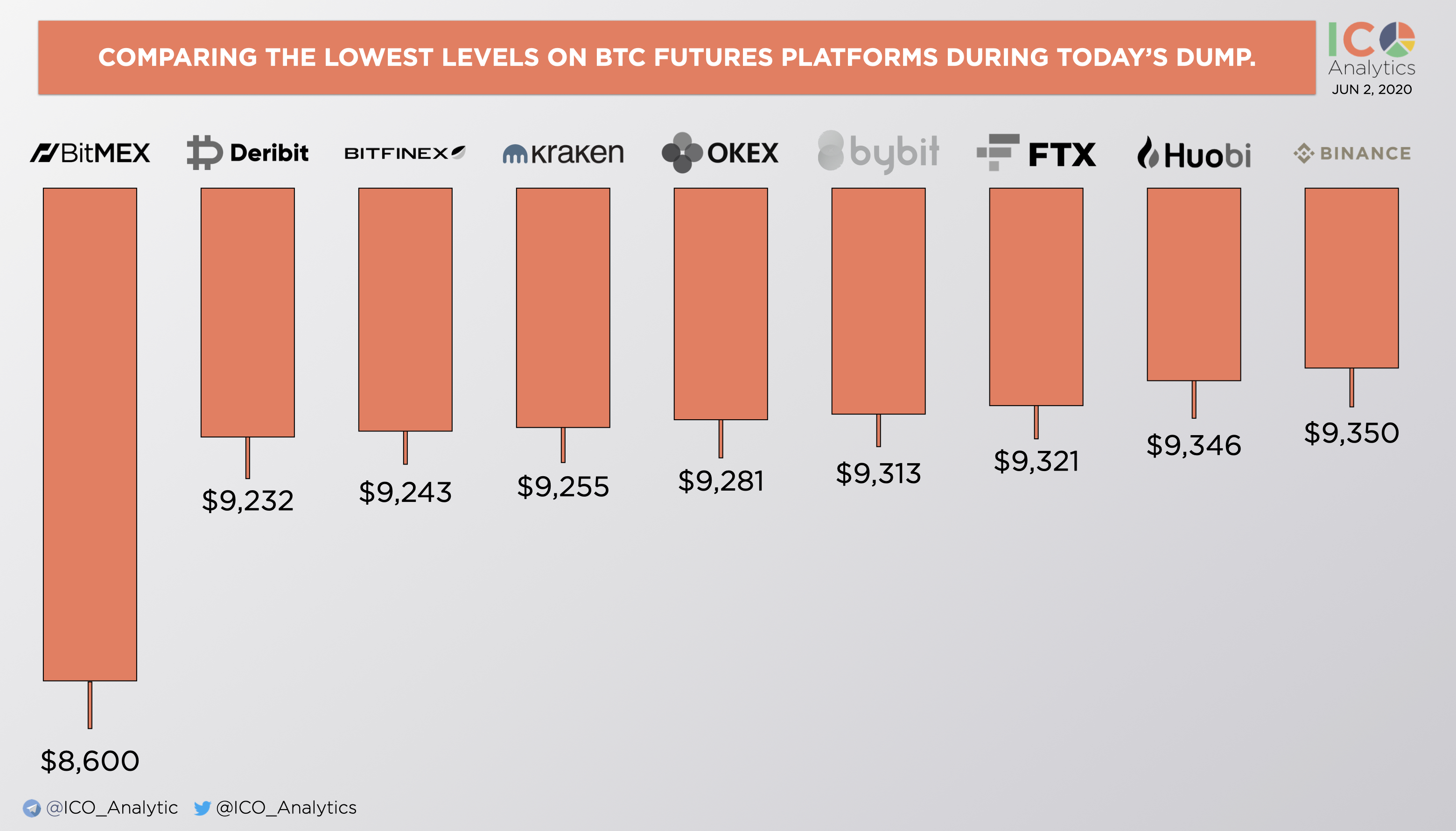 Despite the erratic behavior that Bitcoin displayed, data from Skew reveals that the aggregated volume of some of the most popular retail-focused crypto derivatives exchanges in the market has leveled off.
"June is starting on a softer note from a trading activity perspective as Bitcoin remains just shy of $10,000," said the cryptocurrency derivatives analytics provider.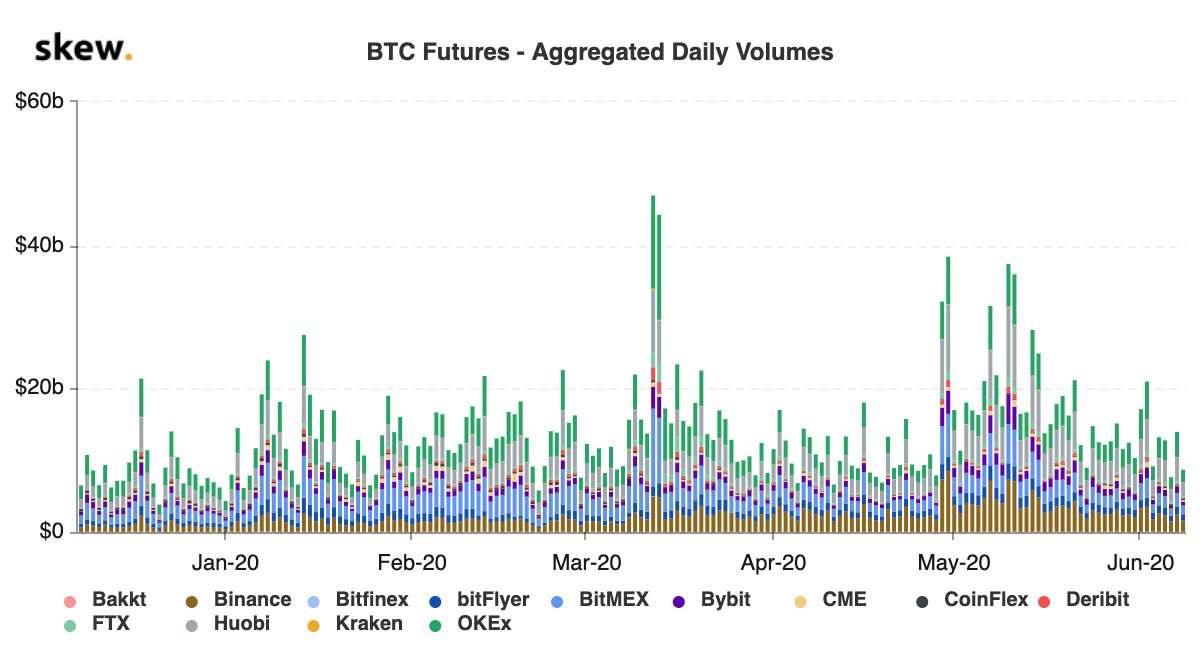 Institutional Investors Are Flooding the Market
Meanwhile, institutional demand is skyrocketing. Fidelity Investments affirmed in a recent study that the overwhelming majority of large institutional investors own Bitcoin or derivatives.
The asset-management giant conducted a survey that covered nearly 800 investors across the U.S. and Europe. It concluded that roughly 80% of the respondents said they're interested in this new asset class. It also discovered that over a quarter of such investors hold Bitcoin or are indirectly involved in the cryptocurrency market.
Tom Jessop, president of Fidelity Digital Assets, said that the negative interest rates in many European nations seem to have attracted a significant number of investors into the space.
"These results confirm a trend we are seeing in the market towards greater interest in and acceptance of digital assets as a new investable asset class," said Jessop.
Even though price volatility was the top concern impeding wider institutional adoption, the dollar amount of outstanding contracts on the Chicago Mercantile Exchange (CME) Group reflects the rising demand among institutions.
Charles Edwards, the head of Capriole Investments, said that CME's Bitcoin futures open interest is up by more than 300% since the beginning of 2020. Such an impressive run-up allowed the CME to take an essential share of the Bitcoin futures market.
Edwards maintains that sooner rather than later, CME may outpace the open interest volume of the once industry leader BitMEX.
With so much at stake, Digitex Futures Exchange is well-positioned to capture disillusioned retail traders who have, for too long, given up their fair share of profits to fee-charging exchanges. Not only can market participants benefit from our zero-commission trading platform, but our team has also put out valuable educational material that will help you become a better trader.
In our beginners' guide, for instance, we explain the basics of how to trade crypto derivative products and give you a breakdown of the platform. We also covered different technical indexes within the Digitex Futures platform that help time profitable trades and explained simple habits to minimize potential losses.
As we increase the number of traders onboarded to the mainnet each week, liquidity is rising exponentially even before we have thousands of users on the platform. Last week, our mainnet group generated 24-hour trading volumes of over $120 million. This proves that with zero fees making scalping a viable strategy, there's no reason to be intimidated by volatility.
Now, it is time for you to sign up and take advantage of the first exchanges in the industry that does not take a percentage of your profits.